Batch Payments
Merchant Warrior Batch Payments is the ideal payment solution for businesses that harbour a significant amount of offline transactions. The Batch Payments solution has the ability to process an extremely large number of transactions per batch file in a matter of seconds via the Merchant Warrior Payment Gateway.
Merchants are able to manually upload or automatically transfer a formatted file with credit card and/or direct debit payment information to the Merchant Warrior Payment Gateway and receive an instant notification upon processing completion.
Merchant Warrior Batch Payments can be extensively customized and integrated into any ecommerce payment solution such as existing and/or new billing softwares.
Why use Batch Payments?
In some cases real-time transaction processing is not feasible. Merchant Warrior Batch Payments enables merchants to collect customer billing information and process the payments conveniently in batches during off-peak periods.
This solution is best suited for businesses that deal with memberships such as magazine subscriptions, health clubs, charitable donations etc.
What are the benefits?
Minimal setup
No constant polling required
Supports tokenization (enabling PCI compliant batch processing)
Access your batch results online AND receive reports
Advanced reporting capabilities with ability to customize reports
Supports Multi Currency
Reduced transaction fees
Supports large transactional volumes
How does it work?
Your customer passes their credit card information to you (the merchant) over the phone, by mail order or by other means.
You store the customer's payment information in a formatted file (batch file) or in a billing software of your choice.
You upload the formatted file manually to Merchant Warrior OR automatically through your billing software to Merchant Warrior.
Merchant Warrior processes all tranasactions in the formatted file and sends a report to you.
You review the outcome (whether it be approved or declined) of the processed transactions.
You update your accounts manually or automatically through your billing software to reflect the results of the transactions.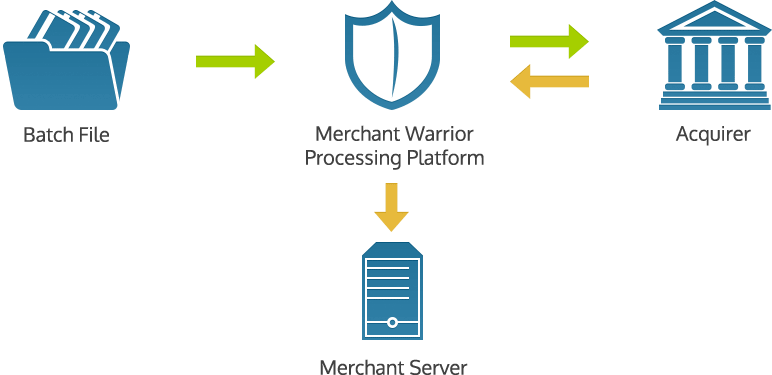 Free integration tools are provided to all developers and the Merchant Warrior testing environment is readily available to test integrations. All development information relating to the Batch Payments solution can be retrieved from our Developer Zone.