Warrior Phone


Phone Payments
The Merchant Warrior Phone Payments service is an interactive voice response (IVR) based solution that enables merchants to automate payments over the phone.
Merchants have a choice of utilising a Merchant Warrior operated 1300/1800 "Phone word" number or providing their own 13, 1300 or 1800 number for use with the service. This solution provides merchants with their own IVR system capable of accepting Visa, MasterCard, Amercian Express or Diners Club credit card payments or Token Payments over the phone. Industries that have benefited from this solution include financial institutions, government departments, debt collection agencies, online retail and many more.
The Merchant Warrior Phone Payments service is a fully customisable IVR that will allow your customers to pay expenses such as council rates, insurance, school fees and generic bills.
Why use Merchant Warrior's Phone Payments?
Merchant Warrior's advanced IVR capabilities will allow you to receive real-time notifcations when a phone payment is processed. This functionality will enable you to reconcile your phone payments without the unnecessary manual step of receiving a CSV or batch file at the end of the day.
The Merchant Warrior Phone Payments service is a PCI DSS certified solution which can be customized to suit your business requirements. Custom voice prompts, custom phone numbers, custom phone words and custom payment notifications make for Australia's most advanced phone payments solution to date.
To trial the Phone Payments service from your phone please dial: (07) 3166 5439 (Australia) or +61 7 3166 5439 (International).
Please use the following details when testing:
Biller ID: 081437
Reference Number/Invoice Number: 111
Payment Amount: 1500
Token ID: 7931
Card Number: 5123456789012346
Card Expiry: 0513
Card Security Code: 123
What are the benefits?
Automate phone payments
Supports tokenization
Hosted IVR solution
Access to FREE phone words 1300 321 PAY and 1800 321 PAY
Accept phone payments 24/7
Instant payment notifications allow for seamless billing integration
PCI DSS compliant
How does it work?
You provide your customer with a 1300/1800 number to call to make a payment over the phone.
Your customer calls a 1300/1800 number supplied by Merchant Warrior OR your own 1300/1800 number.
Your customer enters their payment details over the phone.
Merchant Warrior processes the phone payment and notifies the customer over the phone of the outcome.
Merchant Warrior will also notify your billing software in REAL TIME of the outcome of the transaction (if required).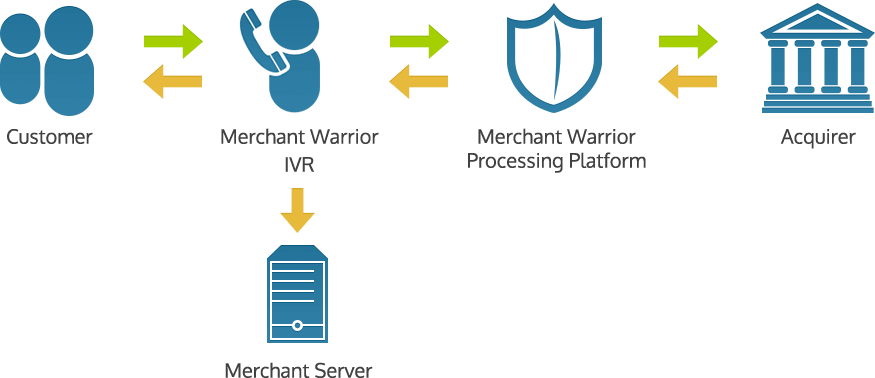 Free integration tools are provided to all developers and the Merchant Warrior testing environment is readily available to test integrations. You can freely test the Merchant Warrior Phone Payments system above. For a more custom testing environment please sign up below for a free test facility.